&nbsp&nbsp&nbsp&nbsp&nbsp&nbsp&nbsp&nbsp&nbsp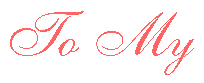 At my door,
he cringes..
Hurt, afraid,
and hungry.
His eyes plead
with what small amount of shine
they still possess.
He is lost
or abandoned
or purposefully dumped-off.
He is abused.

Thank you, GOD

He has found me.

He is HOME.

"I have an invisible beacon that leads lost and abandoned cats and dogs to me. I have taken in much more than the limit in my city. The shelter here is disease-ridden, and the city does nothing to help. The Animal Rescue League is filled to capacity and getting ready to move to the county. We don't have ANY NO-KILL shelters in this area! So, whatever comes to my door, I try and find the owner, but 9 times out of 10 with no response. Now, I have a housefull of sheltered animals. They are fed before I eat. They are comforted and loved. The ones that were obviously mistreated are slowly nurtured to try and trust again. I cannot abide cruelty to animals!! I have stuck my head in where it was not welcomed because of these feelings, but I will continue to fight for the rights of God's other creatures. I will continue to house any lost or abandoned creature that comes to this door. (After all, they have left me the living room couch on which to sleep!!!)"
These were my words......
November 1998
Jackson, MS


October 2000

We now live in Texas
And I have been blessed
With a loving partner
Who helps care for these
Sweet innocents
We have our own place
Our own land...
A "playground" for these furbabies
To heal
To Finally know Real LOVE

"If you have men
who will exclude
any of God's creatures
from the shelter
of compassion and pity,
you will have men
who will deal likewise
with their fellow man."
~St. Francis of Assisi~